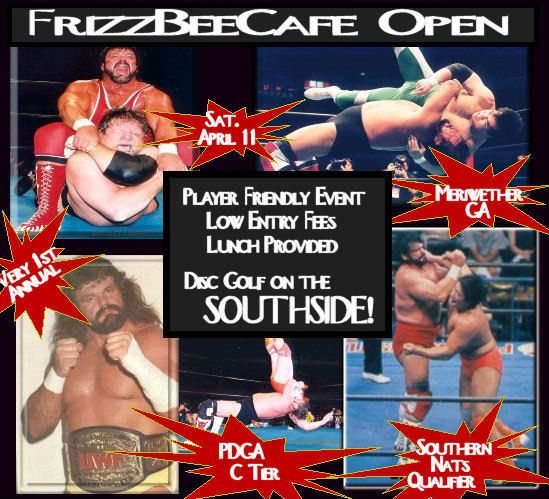 Your probably asking wtf with the WRASSLIN pic above?
Follow this link
http://frizzbeecafe.com/OnlineEntry
to sign up online.
Ok there is a registration list going on
http://www.pdga.com/tournament-results?TournID=8916
When I was thinking of a theme for the flyer for a Southern Nationals Qualifier, I wanted to come up with something SOUTHERN. Fried Food and Sweet tea wouldn't make a very interesting flyer. Evidently Dog and Cock fighting isn't cool. PDGA frowns upon alcohol use so Moonshine wouldn't work, and we all probably get enough Nascar refrences already. The only thing else that was SOUTHERN as all get up......WRASSLIN!!! Although I don't believe there will be any Wrasslin going on at the event and I haven't spoken to Dr Death Steve Williams about coming out, but who knows.
I can tell you what there will be, some good ole boy disc golf fun. It may seem to be a little thrown together last minute, well it is. I was planning on being retired from running tournies for at least 5 years after the 06 Am Worlds. But when I saw there wasn't a Southen Nats Qualifier in the area this year, instead of bitchin about it, I just decided to throw one together. Plus I want to get some disc golf going down here on the SOUTH SIDE! So hopefully this is the 1st, of an Annual tradition that brings disc golf events to the south side of Atlanta, particulary in Meriwether County. There are 1000's of acres of raw land in the area that will in time turn out to be some of our finest course around. If it wasn't for this damn recession I feel like we could have landed 2 or 3 new courses by now but I definatly see some new disc golf in the future in Meriwether County for all you that are missing the Ole Ant Farm.
I am going to be up front and tell you what you are going to get at one of my events so there is no misguided expectations on how it's going to go.
AMS: I believe in low entry fees for Am's and up front value for your entry fee. So other than the $5 in fees that will goto the PDGA and SN the rest of your money will go towards your lunch from Courtney Peavy's FoxxDen Coffee Cafe, and a disc that you will receive for signing up. That only leaves approx. $5 worth of your entry fee that goes towards your payout. So hopefully your goal is good times and fun other than trying to win & stacking plastic to the ceiling. Some other benefits are, being a PDGA sanctioned event you will get to see how your rounds are rated online to see how you stack up in your division. You will also gain Southern National points, be able to participate in the Southen Nationals Championships in Little Rock, Arkasas, and be able to track your standings on SNDG.org.
PROS: With 6 weeks notice, I'm probably not going to be adding GRAND and paying out stacks of greenbacks (unless I win, I'm reporting to the PDGA that it was $50K.....j/k) So uless I could luck into a few quickies sponsorships we are probably gambling for our entry fees. I know Keith spoils us with those inflated payouts at the GSSS but this is proobably not going to be that this time. But out of your $50, $5 goes to PDGA/SN Sanctioning, $5 for lunch. Plus you are qualified to participate in the Southern Nationals Championships in Little Rock, Arkansas. The SNDGC is a GREAT event. Even though it isn't listed as a Major on the PDGA, the Southern Nats is about as big as gets for great events.
The Tourney: As any thing being thrown together in 6 weeks there could be some snags, some fly by the seat kind of things, that could be change the format if reason need be. But for now I am leaning towards setting up a temp 12 hole course and playing twice around for two 24 hole rounds for a total of 48. I never seem to hate more golf. But of course I don't want to have to turn people away so if there are more than 60 (max 72) sign up there will probably be 18 holes for 2 rounds. With 12 holes I can make the quality of the course better. 18 may just require too much attention to make it an awsome layout like Perkerson for there only being 6 weeks to prepare but with 12, I could probably come up with something entertaining and challenging in the limited time.
I have a diferent way than you are accustomed to when it comes to groupings. It's experimental but I hope it catches on. The 1st Round the pairings will be mixed. Open,Masters,GM, & Advanced will all be in pairings of 4 or 5(hopefully not 5somes but may require) Intermedaite & Rec will be paired. You will be grouped the 2nd round with the people that shot the same score as you did. You could be playing with an 8 year old girl if you shoot like one. If your a Rec and you fire down -10 you will probably be on the lead card with all the Pro's. I think it's a good way to get people that are a little timid to make the step up to the next division a little easier. Rec and Int. are already determined by ratings but the Advanced to Pro step is a tough one and if we could give the Adv players some on the job training with out costing them they're amatuer status, it may be benefitial to growing new Open players.
ENTRY FEES
AM'S (Advanced, Intermediate, Recreational)__________ $25*
PRO'S(Open, Masters, Grand Masters) ______________ $50*
(add $10 in non-current PDGA member)
optional ace fund at event
free merchandise CTP's
*online sign-ups have a $3 convience fee.
Follow this link
http://frizzbeecafe.com/OnlineEntry
to sign up online.
Directions: Take I-85 South to HWY 54 (Lone Oak Rd) Go East approx. 2 miles and the park will be on your left. The Park doesn't have a name yet but there are 2 baseball fields there so if pass them you went about 100 feet to far.
Keep checking in, I will try to keep the prudent information updates on top when they are available.
Follow this link
http://frizzbeecafe.com/OnlineEntry
to sign up online.
More info very soon